Contributing to the mission of improving the quality of education, ClassClap becomes a technology bridge between the school – teachers and students' parents. With just a few simple steps, teachers can manage classes, update attendance, assess learning status, take note of health and homework.
Therefore, parents can easily follow their child's learning process and accompany them when studying at home.
Outstanding features of the application: 
Easy classroom management: Register classes/ study groups, create class schedules, take attendance, and quickly mark the whole class.

Individualize each student: The child's learning information and positive/ negative attitudes will be graded on the machine

Quick information exchange: Teachers and parents can directly exchange, chat on  application

Customize on demand for low cost: ClassClap  is integrated into small classes and can optionally add features and completely free to use immediately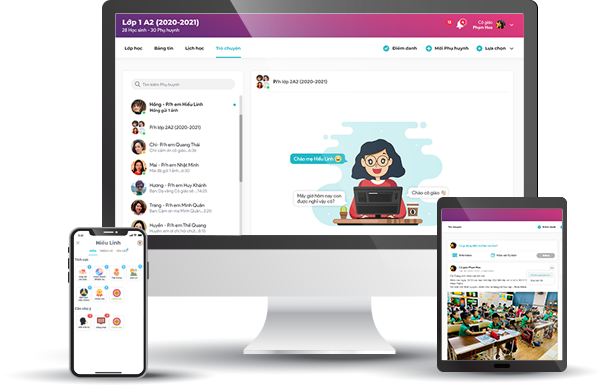 LISTEN TO
What Teachers & Parents Say About ClassClap

It's hard to find flexible custom applications with small classes until ClassClap is available. Hence, we save costs and more time.

ClassClap is our platform for communicating with families about what is happening inside the classroom and school. It has cut the latency of providing families with these updated and it  is  also very intuitive, so parents look forward to seeing it.

ClassClap is an easy to use application. I can track my child's classroom activities with just a few simple operations. I like the way it works
Are you ready to share ClassClap with your class?
Register now