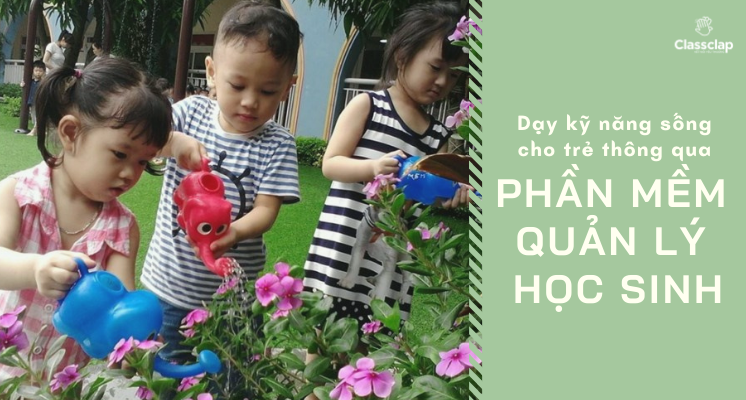 Teach your children life skills through the ClassClap student management tool
Children's life skills will be gradually trained and improved when applying modern student management methods such as ClassClap application.
Children's life skills will be gradually trained and improved when applying modern student management methods such as ClassClap application.
What are the life skills?
 Each individual has the ability to learn and acquire new knowledge, and with the characteristics of today's life, many schools have adopted these educational goals in their programs, essentially to build future generations with full adaptability to increasingly modern living environments.
>> See more: Personal management, group management of students easily with ClassClap school management app
According to the concept given by UNESCO, human life skills are classified based on 4 learning purposes: Learn to know – Learn to do – Learn to be yourself – Learn to live together.
Accordingly, the concept of life skills is defined as the individual's ability to fully perform functions and participate in everyday life.
Life skills are classified into 3 groups:
Group 1: Basic skills such as reading, writing, calculating, … These are skills for applying in life, not having psychological characteristics.
Group 2: General skills (cognitive skills, emotional skills, social skills, ..) such as decision making skills, teamwork skills, critical thinking skills, communication skills,…
Group 3: Skills in situations, contexts, specific issues of social life, such as gender issues; HIV / AIDS prevention and control, drug, alcohol, tobacco prevention …; environmental issues; family issues and violence prevention, health and nutrition issues, …
Why do children need to learn life skills?
With clear goals and classifications, we can see the need to practice life skills for each individual.
Fully equipped with life skills will help children to adapt well to outside changes.
>> See more: Primary children – features that need to be managed by student management software
Currently, with the advancement of science and technology, student management applications are increasingly being introduced into schools. It helps the management of students along with teaching and making significant progress.
The management of students is not only assigned to the school but also a work that needs coordination from the family. That is why not only schools, teachers but even parents are also increasingly actively involved in education and teaching life skills to students.
Strengthen life skills through student management application
The ClassClap student management app provides schools and families with a great option for applying other forms of life skills training for students.
With dedicated features to encourage students to help with family work and practice good personalities, ClassClap is considered a pioneering solution for student management at school alongside at home.
In class, teachers can score students training through good behaviors and behaviors that need improvement. This is the basis for teachers to comment and evaluate students' daily and weekly progress. Through detailed statistics, teachers can completely give fair comments to students. This application also helps teachers more conveniently in training students' life skills while reducing the burden of a huge daily workload.
This feature of the student management application solves the real problem that it is practical activities to guide students in life skills. It is no longer hard knowledge on books. These are the life skills that students want to learn in school.
>> See more: Classroom management application ClassClap – Features that make everyone satisfied
Parents also work with teachers in the class to build training scores with plus and minus points to encourage children to practice skills learned at school while they are at home.
The interaction and support of teachers and parents on this application is the foundation to regulate students' behavior, helping them to progress and develop more and more.
In conclusion 
With confidence in teaching life skills in school, combined with the use of student management tools, surely students of the new generation will increasingly improve the skills needed in modern life.
Download ClassClap for mobile devices now:
For iOS: http://bit.ly/Tai-ClassClap-iOS
For Android: http://bit.ly/Tai-ClassClap-Android
Contact us at Facebook for the fastest support!